Today was another day out, filled with a list of things to do. It was also absolutely beautiful out. What a treat. No need for a jacket even.
We got some banking done then went into Montreal. I think everyone was out trying to catch as much of this warm spring day as they could. We walked down St. Catherines St.(Montreals main strip) hand in hand enjoying the sun as much as the ppl watching. Your see all kinds in Montreal.
We had some shopping to do for Chris' daughter's bday . She likes to read english books when she can so we went to a store that had some of those downtown. Yes, they are actually hard to find outside the big centers lol...where we live and the surrounding areas DON'T have english books . I used to have to go downtown Montreal to get second hand books..to save money...but I would get a whole shit load to last me awhile lol.
While we were there I was in the wedding sections looking for a Guest sign in book. They had a few there but I didn't particularly like any of them. I did find something good though. A wedding scrap book. I hadn't thought of that actually. I have saved copies of our invites and a few other things for keepsake but hadn't thought of putting them in something especially for that. I took a pic of the first page...but it has all kinds of different pages you can write about how u met, when u knew u were in love, your engagement, your wedding invites, your rsvp's, your guests and what you got from them etc etc...I thought it was a brilliant idea! So we got it.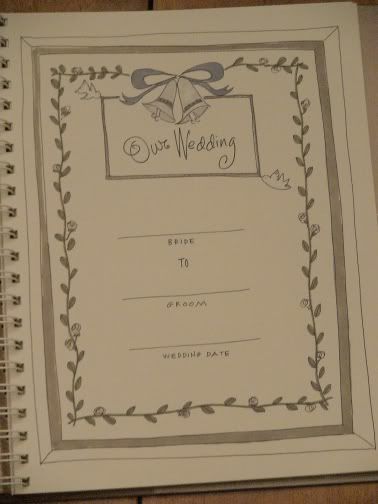 Here is also a pic of our invites...we had both english and french but I have included a close up of the english ones. I think they are rather nice if I do say so myself. Chris did a great job doing them all with the printer.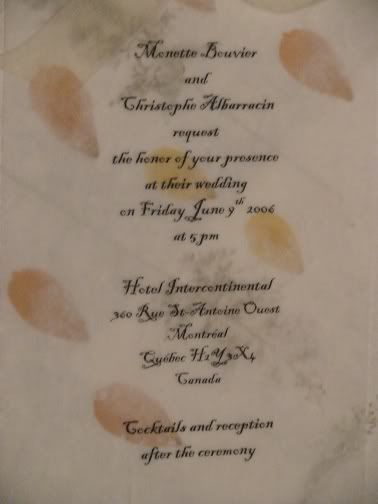 Not bad eh.

So we then went on to look for a necklace and our sign book. We did some shopping inside the underground mall that is really quite cool. You can shop for miles underground going from one center to another with blocks and blocks connecting to eachother and the metro (subway system) ..it's nice especially in winter lol.

I found my necklace...keep in mind that my dress is not traditional at all. It is a deep bronze colour with an ivory inlay down a slit in the front. I needed something to dress up my neck. I took a pic of it because I wanted to show it to my mom. She wanted to pay for it when I found it, as a way I think of being part of my wedding outfit. It cost more then 60$...thats all I'm saying. But it really is nice heavy costume jewelry and the colours are PERFECT! Here are 2 pics...one with flash one without.


What do u think?

I also found my sign in book in another store. It is exactly what we wanted. Not to big because lets face it , we aren't having 200 guests lol. I wanted a small book that had room for ppl to sign and comment and thats all. ..I wanted ivory but they didn't have it in ivory but as u can see it has somewhat of a pattern on the satiny finish, so it could almost pass for ivory/white ...hard to explain.....I have yet to find a pen with a pedistal though...next on my list.

So there u have it....oh and we went to the Hotel to put a nice chunk of money down on our reception WHOO HOOO... that felt good.

Then we went to a part of Montreal (Rue Prince Arthure) that has alot a different resturants and tryed a Portugese resturant. We had an assortment of lamb, rabbit, quail, portugese sausage and porc!...it was a menu choice for 2 ppl to let you try them all. OMG there was so much, it's a good thing Chris was hungry...seeing all that meat on the serving plate had the opposite effect on me lol....I tryed bits of this and that but not alot. Way too much meat for me lol. I just nibbled on some fries and had my salad with some bread...but I have to say that it was all very good , even the tastes I had of the meat....We took the rest home ofcourse...I know a cpl of dogs that will be very happy tomorrow lol.

Tomorrow I hope to go to our local florist and see what kind of catalog they have and what kind of prices. I would like to give my local town first try for the business but again...I am going to price check....no need to loose an arm now..I have been doing pretty good so far....

Let me know what you thing of everything...your feedback is important to me.