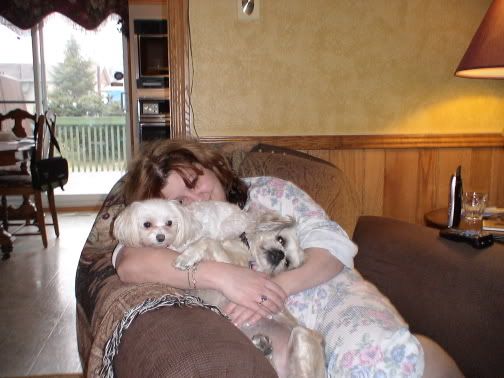 No matter how bad we look or feel our dogs love us anyway.
Ok, so does Chris ofcourse but I don't want him to get sick cuddling me lol.
I wanted to say thankyou to all my well wishers. It was so nice of you to drop by to comiserate.
I am feeling much better. The meds are doing their job...and my sweety has been taking such good care of me. The dogs have been keeping me warm for sure lol.
This post comes about because of a friend of mine. She called me crying this week. She has to put her dog down. He is too sick to help and she is doing the right thing so he no longer suffers. It breaks my heart the pain she must be feeling. She has had many good years with her LUCKY so it's easy to understand how much it hurts to lose a dear friend. It made me thankful that for now, my dogs are relatively healthy. One has alergies, other has epileptsi but the are both treated for their probs. So here is abit about them lol.
Honestly, I have such cuddly dogs. None of these pics have been set up. They have to sit on mommy when ever they can. When they can't they have to cuddle themselves...

I swear, ppl laugh when they see our dogs. If we are in the kitchen, they are close by always, but the little one JUST HAS TO SIT on the bigger one. The big one just lets her now, it's part of the routine...we have no idea why little one does it but its so cute.

Here are a few other pics of our k-9 babies...even at when u feel like total shit...pets somehow make us smile. So here I share some smiles with you.

Yes they would both sleep in this dog bed together all the time. It got so stretched and used it didn't last long with washing it also. We opted for the large colourful pillow u see above now lol.
I grew up with animals, we always had dogs, cats..even had horses, rabits and a wild black bear came down the mountain into our yard one spring in BC growing up. With exception of the bear...I always loved having animals around.
When I started being a foster care provider, the first client we had was alergic to many things so we had to go without animals for yrs. It was odd for me to not have pets during that time...ok, fish, but they aren't very interactive lol. When changes happened, we were thrilled to be able to have a dog again. Chris is alergic to cats so we got our dog, then a yr later got the little one...they add so much to our lives. I hope you have enjoyed seeing our critters lol.
I will coin the phrase..Your Turn...used by some blog friends...
Do you have pets? Have u always? ....What kind of pets do u have?