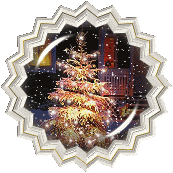 I got spoiled rotten this year. I am a very blessed and loved. My mom got me a really nice red 3 pcs pijama set. Cléo got me a basket full of sweet smelling bath stuff. Dad sent some money that I put towards my new coat.
My tree held a few surprises under it this year. I was pleasantly pleased by the few things that my sweety remembered in passing. I constantly complained about my mouse cord on the laptop. He got me a small cordless mouse YAY!
I also got an electronic french/english dictionary..for those who know and LOVE me, also know I am somewhat challenged when it comes to spelling . OK, OK, so I am NOT perfect...who knew.
I was also treated to a gorgeous watch....we actually saw it together in a watch store and he was determined to get me something more, besides the forementioned surprises already under the tree, that he was sure I would like . This was before xmas, but once we saw it and both loved it, he bought it for me. We had it gift wrapped because I had no intentions of wearing it before christmas. It is a beautiful Calvin Klein watch with a swiss movement. I will also add that its the most expensive watch I have ever owned. I almost choked when I saw its price , looked up at Chris with an incredulous look on my face like...YOUR NOT SERIOUSLY THINKING OF BUYING IT?? He in his calm, charming, loving manner says "Do you like it? " ..."Yes but"......" No buts, I love you and I can buy this for you " ......What can a girl say to that I ask you ?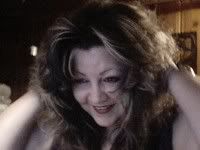 can you tell I am a happy camper?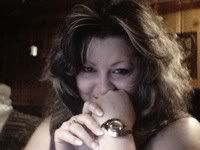 isn't this the coolest watch u ever saw? lol
I was lucky to have found a gorgeous coat just before christmas aswell, I love it and its the nicest coat I have ever owned. It wasn't an official xmas present but I did good by getting it for 75% off the regular price....some of my friends wanted to see it ..hense the pic lol...
I have to now tell u of another special gift I got. This gift took months of preparation and thoughtful caring for a best friend. Shannon could not have better shown her generous and loving nature with the time and care she took in putting this together for me. I love her to bits.
Let me preface this by saying that years ago I had showed her a bunch of postcards from europe. These were from when my sister spent a few months there.
All the postcards were of beautiful doors, of all colours. I had the plan to frame then and put them as a collection on a wall in my house . Just never got around to it. ...Shannon always remembered this. Last summer when Shan was here, she and my bf Chris drove around taking pics of nice doors in our neighbourhood and when we went to Quebec city she got some there aswell. Over the next months, she had printed, matted and framed 9 photos of doors. Each pic has a word that all together read "THE ROAD TO A FRIENDS HOUSE IS NEVER LONG" my own door photo has the word FRIENDS on it and Shan made it so that my door is also in the very middle of all 9 photos. My friend did an awesome job and really floored me with this present. Words can not describe how much I appreciate the loving time she took in putting this all together for me. I love my friend Shannon.
How cool is that I ask you? I have yet to decide exactly where this 9 picture display will hang but when I do , I will be sure to take a pic of it.
So as I was saying, I have been blessed this year. The new year to come can only hold promise and happiness. I feel so fortunate and humbled by the people in my life , near and far. I could only hope for the same to be true for everyone else.