NOT ANYMORE!!!
How many times have we used that expression? I know I have many times in my 43 yrs. When I got this pic in an email from a friend I just had to share it. I think the idea to finally capitalize on the old saying is genious!!!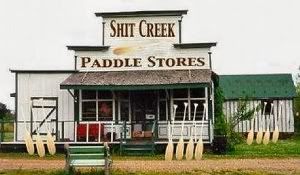 I am also curious....have u ever been in a situation where you were in or close to being in shit creek with no paddle?

I was once, while in Mexico...alone at 4am, walking home, (to friends apartment) had 4 men following me and getting closer...very dangerous situation. Got out of it in the nick of time by the skin of my teeth...will have to tell the story in more detail some day.

Tell me about yours..