Let me start by saying HAPPY BELATED MOTHER'S DAY to all the moms out there. This year I got spoiled. Chris and Cleo, stealthily went shopping after Chris' work, to find me a nice vase. Here I was thinking he had to work late lol.
He had picked up my daughter from her friends house after school. She chose a gorgeous vase but as they both rambled into the house, Chris give me a passionate kiss...I was like...WOW what was that for? He hoftily scoffes, Since when do I need a special excuse to kiss u like that hmmfff!..so here he makes me feel quilty for asking but I later figured out it was so that Cleo could get the big vase past me to her room....THE BIG GOOBER...
So Sunday morning, I get up early for Luc to give him his pills and have him pee, then put him back to bed. Chris has long left for work, the house was quiet. I go back to bed myself. To get up later and see this on the kitchen table.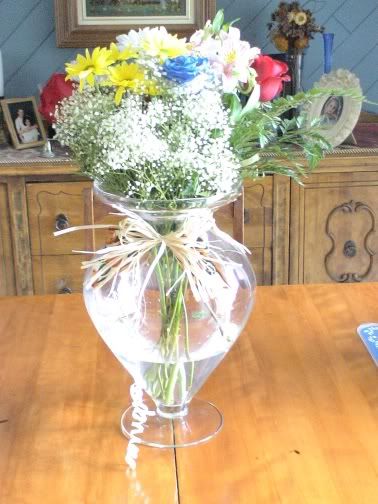 Is that gorgeous or what!....I go into my daughter's room to say thankyou, she is barely awake, with an eye peaking out of the blankies lol...
I give Chris a call at work, to thank him too, cause I figure he is behind it, but he assures me that although he helped with the financing of it, she was the one who put it all together, and they had NOT gotten flowers on Friday...which meant that my 15 yr old, got up early on a Sunday and walked to the florist carrying the vase to buy fresh flowers to fit into it and but the clear wrap over all....then carried it all home and slumped back into bed. NOW THAT impressed me!!
Cleo later made yummy chocolate chip cookies and we ate warm fresh ones straight out of the oven. Giggling with chocolate smeared faces and milk smiles. It doesn't get much better then that.