Well, it's getting here!...We got a few more things done. Our flowers have all been chosen, I feel good about our local florist. ...wedding pics will confirm or disaprove that that feeling lol.
I got all my candle holder center pieces assembled...granted only 4 but they needed to be unpacked and put together...I am very thankfull I had 5 because there were a few missing crystals so one will be used for parts lol. I will raffle 2 at the reception and keep 2 for myself....
I finished assembling our wedding favors...they are ready to take to the hotel along with the centrepieces and be put at each place setting...all is ready..packed the knife set, pen set with sign in book and extra candles ....all ready to go....
I took a pic of the first page in the sign book...I have mentioned before that I do caligraphy as a hobby...so here is an example...u may not notice the gold highlight I also added to the lettering.......I also really like the simple heart with pen I found to go with it.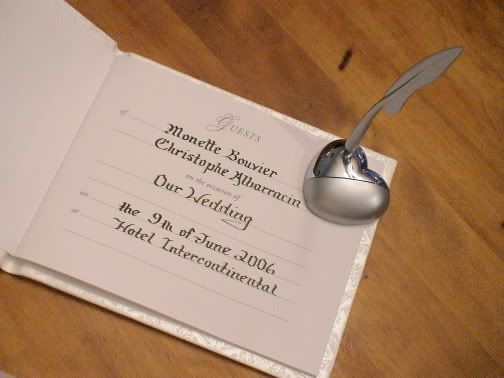 Closer view..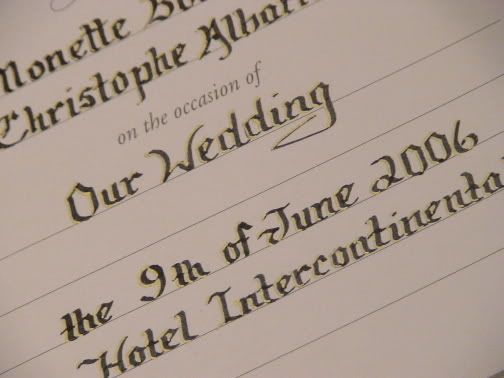 Other news is that Chris' poor mom broke her shoulder last week. It is just terrible for her and the timing couldn't be worse. She who loves to stay home and be in her own stuff, has the perfect excuse to not come but she is still coming!! Chris is glad, so am I. We are hoping by the time they get here she will be abit better in terms of pain and comfortability..she will still have to wear a sling but as of this week, she is wearing 2 of them to keep her shoulder totally emobilized...they should be removing one next week.
We are hoping to get all our flower planting done this Monday. Taking a bit of a chance of frost but it is said that if u plant after a full moon your pretty safe, thankfully there is one tomorrow (Sat)...We just want to get the outside all done and have time to take root...we will have so many other things to do before they arrive. Lots of spring cleaning in the house to make it presentable for their stay...(am I anal retentive?) NOOOOOO....hehe, but I want them to arrive to an emaculate house and nice room to stay in. His mom is not the type to be comfortable staying at anyones home, she is kinda stuck here being so far from home...I want to make her as comfortable as possible...and also hope they LIKE me lol...I already know that Chris' dad is very easy going and has no probs sleeping away..he is the adventurous one of the two lol. He was ready to hop on a plane within a minute of Chris asking him to be here lol.
At anyrate, things are getting done....meet with Hotel next wed for all the details, choosing the Cake and getting all that ironed out.
My only concern at the moment is the Dress....it still isn't at the store..it was ordered in my size but I still need a fitting...as u can tell, I have tryed to get everything done early enough..
...I mean, I realize I have a month till the wedding and most all is done, ...I have just not wanted to have a million last minute details to deal with all at once, I have wanted to savour and enjoy all these steps and not turn into a bridezilla cause I have too much to do in too short a time then get frazzled and ugly lol.....I know that no matter how well planned I have tryed to do this, there will ALWAYS be a few last minute mishaps or details to take care of.
THAT being said....I called the store and they told me that it isn't in yet but NOT TO WORRY...we know your wedding is June 9th....arg...the note of condasention in her voice kinda got my back up...I am thankfull that we only paid for half the dress so far.......anyway..fingers crossed, I will feel alot better when they call for my fitting.