I don't know if I should be more stressed or less stressed lol. Things are starting to fall into place so I am relieved about that. I am starting to believe that I am kinda going to pull this off. I sound so sure of myself don't I ........NOT!...
Tomorrow we go back to the
Hotel
to put a big deposit on the reception. Whoo Hoo. I also found some beautiful center piece candles on ebay for my reception tables. AND I found a great deal on a silver plated cake carving set that is new but looks antique. I can have them engraved here.
We had previosly sent in all our documentation for a civil wedding at the Montreal court house but when we found we could marry in that beautiful Le Cave room..we got intouch with them to see about paying the extra for an officient to do a ceremony outside the courthouse like it says on the web site. WELL.... got word that they DON'T do that. We would have to get an independant Officient. .......Good to know!!!
The fact that my wedding will be on a Friday has come in handy for so many reasons so far....it was SO meant to be lol. We found an officient. It will cost only abit more then what we would have paid at the courthouse but I am already convinced that it will be VERY worth it. I spoke to the gentleman this evening. He was so nice, and wanted to know all about us. He was so inthusiastic and asked so many questions, anyone can tell he loves doing this. I will not be the 5 minute affair we would have had in the court house. He was even saying it would be atleast 40 mins lol....We meet him in person on Tuesday evening to go over legalities and get to know us more.
He told me that the ceremony was for us but also for the special ppl in our lives attending. To feel like they know you even more and become a part of your special day. The other great thing about him is that he is bilingual. We will be able to do it all in both french and english. My guest will be almost half and half with only one or two in the whole mix who speak both. I am relieved because I didnt want ppl to feel left out or clueless about what was going on. I was very impressed by the man and I am even happier if that's possible lol.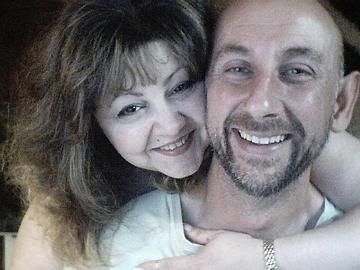 This is one of my favorite photo's of Chris and I...it really shows how we feel. Every little thing that is accomplished with our plans has us beaming together. Chris and I have decided everything together . He is as thrilled with the candles as I am. I love that he wants to be part of everything and the whole day will reflect OUR tastes and wants.

I have also been having a blast online with a few buddies while we go through reems of wedding sites looking at dresses and getting ideas.

Before I end this post I want to say a huge....WHOOO HOO
SHAN
!!! .....My buddy officially became a NURSE today!! Way to go!!! We all knew you could do it.