On saturday we went back to the Hotel and went over a few details, tweaked the menu (add ons lol) and signed the contract!! It was a relief really and I have to say that doing business with a 5 star hotel really shows. What service. Yes you pay for it but honestly with all my research they were and are quite comperable to the middle range hotel services offered elsewhere... so for anyone out there thinking of planning an event...don't automatically disregard someplace you may think is out of your pricerange. Like us you may be pleasantly surprised.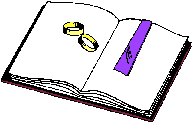 On top of that, our Hotel contact is a sweetheart. She asked us about another idea concerning the cocktail hour after the ceremony being in the ceremony room. We had been going by the idea from her co-worker who had shown us the rooms the saturday before. We didn't want ppl going into the reception room untill the apropriet time so just figured cocktails could be served
in the same room as the ceremony.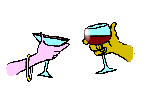 She suggested that we use yet another room next to that, same brick/stone as the others but it would be more comfortable with a few chairs and tables with the punch and platters . Rather then staying in the ceremony room where the chairs were all arranged like a church it would be more cramped. I was like...so your going to set up and give us ANOTHER room at no extra cost? Yes she says, it's not booked anyway lol.....Remember, they aren't charging the fee for the ceremony room either. So you see, just those 2 rooms usually cost $200 to rent each. All 3 rooms are in the same area so my guests just go from one room to the other . We are so thrilled to be able to give our guests and ourselves a great place for a wedding!

I asked her about my centre pieces and if I or a friend could bring them to the reception room
earlier in the day to set them up along with my wedding favors and such.

She told me that I had no reason to delegate a friend or even show my face there before my wedding lol. She said that we could either the day before or the day of, bring her everything including my sign in book and pen, and anything else I could think of. It was HER JOB to do all that for me. She would by then know all the little details I wanted and she was paid to take care of it all. I have to say it is really cool to be told that.

We get together 3 weeks before W day and go over all those little details.

THEN Chris and I went down St. Hubert street. It is the wedding boutique street of Montreal. I was hoping to find a dress or get a good idea on one. Well, first boutique, first dress!!! Yes folks you read that right! I tryed on a second one that was nice and had another to try on aswell but didnt bother, I put the first one back on again and YUP its the one. Chris and I both loved it. It is NOT a wedding dress. I did not want a traditional wedding dress. This dress is a deep bronze/copper colour with ivory inlay that shows through a seam that opens at the top and down the front from the midway to the floor. It really is beautiful and the colour looks great on me. They have to order my dress though. The one I tryed on was just not fitting the bust area lol. I will have it in ample time for a fitting. I actually found a dress online thats almost identical to it but they dont have my colour choice. I was able then to give my mom and sister and a few friends a good idea of the dress but I will not post it in here. I would rather show u real pics of me wearing my dress later lol...SO THERE!

I have to add that my wonderful fiancee told the dress shop lady to make a note on the dress order for an extra square piece of the bronze fabric. She asked why...he said it was to fold up to have it sticking out of his label suit pocket so we could match. AWEEE WHAT A GUY EH. Stop rolling your eyes! Most men wouldn't even have thought of that.

He will not be wearing a tux. He would like to wear a nice linen suit if we can find one in our price range. Something he will be able to wear again. So that is the next shopping trip.

I have been pricing dj's for the last 2 days. Wow what a range in prices! They go from $550 to $1500 so far. I don't want to be cheep. I want a good dj with experience but I am not willing to cut off an arm to get one lol. A big wedding with 100 or more guest could almost ....I say, ALMOST have a crappy dj since there are alot of ppl making noice and such but with a small 30 to 40 group, a bad dj would be amplifyed and really blow it lol. SO I am still not decided on who, but I know it will be in the 700 to 800 range. But that will also include music piped into the ceremony room. I want classical music in the background just so it doesn't echo in there lol. N
o precesion
music or anything like that , just beautiful music.
Oh Oh and we god our invitations aswell!...Told you we are on a roll. Keep in mind, I have only one day a week to do outside stuff lol... So we really got alot done on Thursday. We had a look at what invitations would cost if we had them done and frankly its rediculous for the small mount we need. The more u need the less they cost ofcourse but for us that isn't cost affective. We decided to get a kit that u print out yourself with your printer. They are very nice and we saved $150 that way AND we can even do some in French and English instead of trying to make them all bilingual...I only like being long winded in my blogs lmao!

Man this was going to be a short update on things happening this week..so much for that lol
.