We went to 3 hotels on Friday evening to see their reception rooms but we both had our heart set on the InterContinental Hotel in Montreal...It was actually the first place I saw in my research online for receptions. I was looking for SMALL sized reception rooms since I will only have from 30 to 40 ppl tops. I didn't want my small crowd to be swallowd up by a room to big for us. I was hoping for an intimate but special setting .
When I saw these rooms my first reaction was AWE.. this is what we want..then it was AWE.. this we can't afford for sure.....I was wrong thankfully. I called to get more info and although this is a 5 star hotel and very chic..like most places, they are very helpful and offer many suggestions to fit your budget and we were very pleasantly surprised. This will make it all possible and they even suggested we have the ceremony there for no extra cost. ...
The room I initially fell in love with is the one u see here with the fresco's on the wall. It is named LE CAVE. It was built in 1886...and it is a very intimate room. I could have had my whole party in there had I not wanted dancing. So instead, I will have just the ceremony in there. Ours is a short civil ceremony that was going to be done in the courthouse but this was a far better idea. This way everyone can be with us. .....The room will be set up with chairs on each wall with an aisle down the middle ofcourse so try to erase the table in the picture from your mind lol.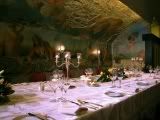 After the ceremony there will be cocktails for my guests while Chris and I go off to get some photo's taken by my sister. After that's done, my reception will be in the room next to Le Cave....
It is called LES VOUTES... this room is similar but no fresco's. It is also abit bigger. As you can see below. My tables will be set up like that but only 4 round ones and a straight honour table only taking up half the room. The other half will be used for a bar, the dj and dancing so its just perfect.
We were both giddy with the prospect of having it there. It's also such a beautiful Hotel with so much to see that it's worth spending a night just once whether getting married or not anyway. To get an idea, click on the name above for the direct link to the hotel and see the photo tour. It's incredible.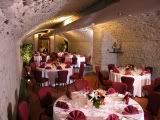 Now I am sifting through florists sites...Like the rest...I want simple and elegant. I don't think it has to cost an arm and a leg. Luckily I only have 5 tables to dress up. As beautiful as the tables and linens are in this place I don't need to do anything extravagant.
We went to china town after the hotel visit. We were looking for small container ideas for my wedding favors. Online in many sites , the things I liked were to pricey and x 40...it adds up. We found what we needed at a fraction of the cost and even nicer then what I had seen else where. I won't go into what they are because it would spoil the little gift surprize for some who read my blog and will be at my wedding lol.
Well, that's all for today. We look forward to getting all the little details ironed out this week and contract officially signed with hotel.
SO...what do u all think?